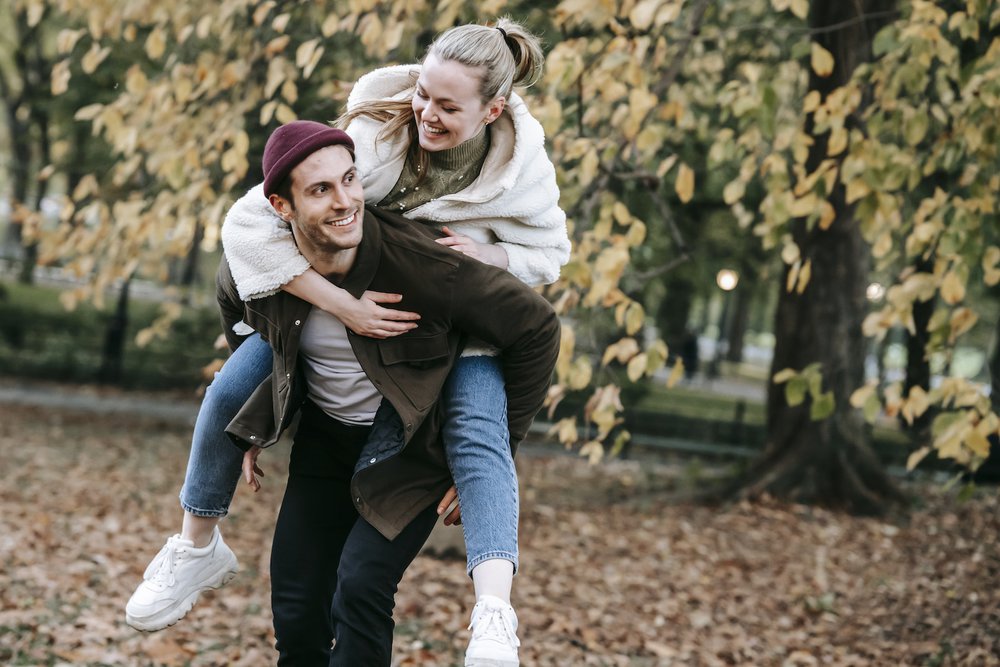 Reading Time: 5 minutes
There is no disputing that the fall season infuses the dating scene with a unique kind of charm when the leaves start to change and the temperature drops. The right attire can help create a memorable and enchanted evening, whether you're going on a first date with a new person or trying to reignite the flame of your long-term relationship. Date nights in the fall are all about getting comfy, enjoying pumpkin spice lattes, and going for long walks among the glowing leaves.
To help you make a great first impression and leave your date swooning, we've curated a collection of cute and stylish fall date night outfit ideas that strike the perfect balance between warmth and fashion. From classic sweater dresses to edgy leather jackets, and everything in between, let's explore the world of fall fashion and get ready to turn heads this season.
Effortless Elegance: The Midi Skirt and Blouse Combo
Effortless elegance is embodied in the midi skirt and blouse combo. Opt for a flowy, patterned midi skirt in rich autumnal hues, paired with a solid-colored blouse, for a more elevated look. Tuck in the blouse and cinch your waist with a sleek, skinny belt to define your silhouette.
Enhance the ensemble's sophistication with delicate jewelry, and for an extra touch of grace, consider draping an AAA Tahitian pearl necklace around your neck. This timeless addition not only adds a touch of refinement but also elevates your outfit to the epitome of understated elegance. Pair it all with ankle boots to complete the effortlessly chic look.
Classic and Chic: The Sweater Dress
Embodying the essence of classic and chic style, the sweater dress is a perennial favorite in the realm of fall fashion. There's an undeniable timelessness to it that makes it a go-to choice. Select a cozy knit sweater dress in a rich, inviting shade such as burgundy, forest green, or mustard to exude the warmth of the season.
Elevate your ensemble by pairing it with knee-high boots that not only keep you snug but also exude a dash of confidence. To add that final touch of sophistication, introduce a statement belt that gracefully cinches your waist, emphasizing your figure. This effortlessly chic outfit isn't just about fashion; it's a versatile choice perfect for a cozy dinner date or a leisurely park stroll, making it a fall wardrobe essential.
Cozy and Casual: The Oversized Sweater and Skinny Jeans
Sometimes, simplicity is the key to making a great first impression. Slip into a soft, oversized sweater in a neutral color and team it up with your favorite skinny jeans. Roll up the cuffs of the jeans to showcase a pair of ankle boots or stylish sneakers. This outfit radiates comfort and warmth, making it an excellent choice for a laid-back coffee date or a movie night.
Edgy Flair: The Leather Jacket Ensemble
The global leather goods market was valued at $242.85 billion in 2022 and is expected to grow at a CAGR of 6.6% from 2023 to 2030, emphasizing its popularity. A leather jacket might be your go-to item if you're going for a daring and edgier appearance.
Put it on top of a high-waisted skirt and a fitted turtleneck. Experiment with textures and patterns without fear. For a rebellious touch, add a pair of ankle or combat boots to the outfit. For people who wish to leave a lasting impression with their distinctive sense of style, this outfit is ideal.
Bohemian Beauty: The Maxi Dress with a Denim Jacket
For a romantic and bohemian-inspired fall date night outfit, consider a flowy maxi dress in a floral or earth-toned print. For warmth and a dash of cool appeal, layer it with a denim jacket. Add a wide-brimmed hat and suede ankle boots to finish the look. This ensemble is ideal for a picnic date or a visit to a pumpkin patch.
Timeless Romance: The Trench Coat and Dress Combo
Channel your inner Audrey Hepburn with a classic trench coat paired with a knee-length dress. Opt for a neutral-colored trench and a dress in a complementary shade. Add a pair of heeled ankle boots and some vintage-inspired jewelry to create a look that oozes timeless romance. This outfit is perfect for an upscale dinner date or a night at the theater.
Playful Layers: The Cardigan and Midi Dress Duo
Fall is all about layering, and a cute way to do that is by combining a chunky cardigan with a midi dress. Choose a colorful cardigan that contrasts or complements the dress, and add a belt to define your waist. Complete the look with a pair of tights and stylish ankle boots. This ensemble is versatile and can work for anything from a casual coffee date to a visit to an art gallery.
Final Thoughts
When it comes to fall date night outfit ideas, the key is to strike a balance between style, comfort, and personal expression. These clothing suggestions inspire making a fantastic first impression, whether you're going for a classic and stylish look or hoping for something more edgy and individual.
Remember that the most crucial aspect of dressing up is to feel confident and at ease since, as we all know, confidence is the ultimate accessory that can make or break a date night. So go ahead and enjoy the splendor of fall fashion while creating lifelong memories on your next date night.
Carol
Information sourced by the author for luxuryactivist.com. All content is copyrighted with no reproduction rights available. Images are for illustration purposes only.