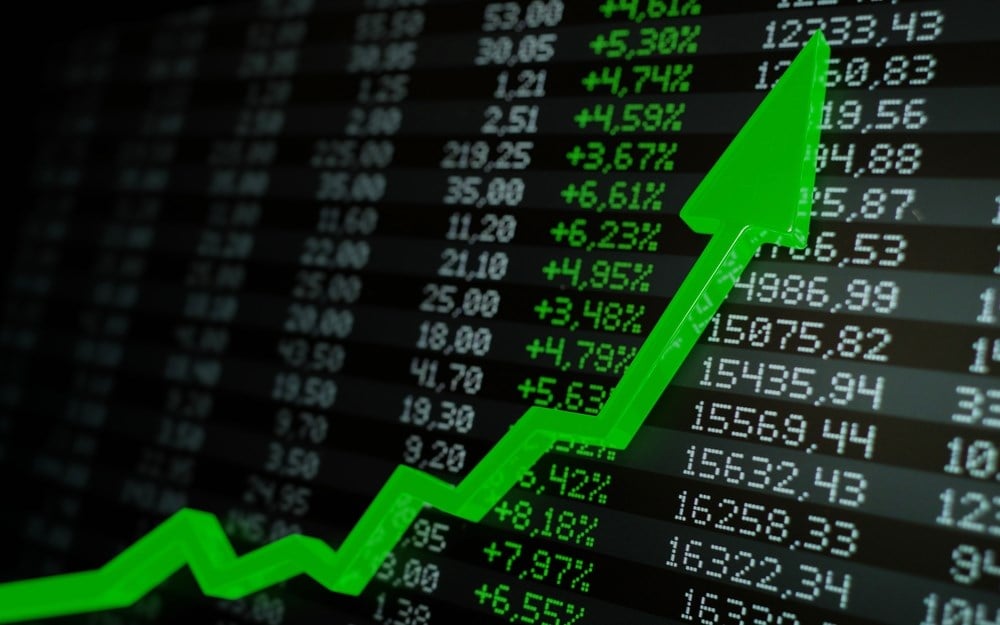 Microbot Medical Inc. (NASDAQ: MBOT) stock spiked more than 150% on a massive 194 million share volume on a successful pre-clinical animal study for its LIBERTY surgical robotic system. Shares hit a high of $4.37 intraday before closing at $3.19 on May 22, 2023. The company also announced a $1.4 million direct offering at $2.20 per share. Microbot is a pre-clinical stage company that develops robotic systems to assist medical practitioners with minimally invasive interventional procedures. The company is not another Intuitive Surgical Inc. (NASDAQ: ISRG) as it has yet to generate any revenues and still needs to do human trials and FDA approval. Their front runner is the LIBERTY surgical robotic system.
LIBERTY Surgical Robotic System
The LIBERTY system is designed to navigate guidewires and microcatheters through the vascular system, eliminating the heavy capex required for dedicated staffed Cath-lab rooms. Cath-labs is short for catheter laboratories, where catheters are used for minimally invasive procedures and catheter-based procedures like angiograms, angioplasties, stenting and installation of defibrillators and pacemakers. Cath-labs are equipped with expensive imaging equipment, including fluoroscopes.
LIBERTY Features
LIBERTY can streamline Cath-lab procedures combined with its One and Done technology or other guidewire technologies. LIBERTY provides linear, rotational and tip control and aims to reduce exposure to ionizing radiation and the need for heavy lead vests. The company partnered strategically on Dec. 22, 2021, with medical technology provider Stryker Corporation (NYSE: SYK) to integrate some of Stryker's instruments with LIBERTY to address neurovascular procedures.
Pre-Clinical Animal Study Success
On May 22, 2023, Microbot announced a 100% success rate for LIBERTY used in a European pre-clinical animal study. This news surged the volume and price of Microbot shares. The study comprised six European interventional radiologists performing 48 catheterizations to pre-determined vascular targets with a 100% success rate of reaching the intended target. Vascular targets included distal branches of gastric, hepatic, splenic, mesenteric, renal and hypogastric arteries. The radiologists found the LIBERTY system easy to set up and control procedures remotely and intuitively using the remote controller.
Microbot Medical CMO Comments
Microbot Chief Medical Officer Dr. Eyal Morag commented, "The results of the multi-day study continue to validate LIBERTY and is further evidence that the ongoing adjustments we have made will ensure the safety and efficacy of the system as we plan to enter the human clinical phase during the second half of the year." He continued, "We believe this, along with other expected opportunities for peer-reviewed publications, will lay the foundation of showing the significant benefits LIBERTY is expected to bring when commercialized and helping to accelerate early adoption,"
Microbot Medical FOMO Risks
Before you jump in head first, it's prudent to be aware of the risks involved. Don't let the fear of missing out (FOMO) force your hand in chasing shares. Microbot is a pre-clinical study developmental company. They don't have a commercial product and still need to conduct human trials on its LIBERTY robotic system. The company has been raising cash levels through secondary offerings. They did a $5 million secondary on Oct. 21, 2022, and made a $1.4 million direct offering on 5/22/2023 for 655.6K shares at $2.20 per share. The company has NO REVENUES and 18 employees. Any investment in penny stocks is pure speculation.
Microbot Medical Skimpy Financials
According to its latest 10-K filed May 17, 2023, the company had losses of ($2.85 million) in its Q1 2023 ending March 31, 2023. It had approximately $5.06 million in cash on March 31, 2023. The company announced a $1.4 million direct offering on May 22, 2023. The company said it will use proceeds for the continued development, commercialization and regulatory activities for its LIBERTY Robotic System. The technology looks compelling; the question is whether it can take LIBERTY to the commercial stage before running out of cash. It must also attain U.S. Federal Drug Administration (FDA) approval.
Microbot Medical analyst ratings and price targets are at MarketBeat.
Weekly Inverted Cup and Possible Handle
The weekly candlestick chart for MBOT shows a large inverse cup with a rounding top attempting to form a handle. The inverted cup lip line formed at the weekly market structure low (MSL) trigger at $1.40 in December 2018. Shares made two large spikes to $19.40 in January 2019 and $20.15 in December 2019.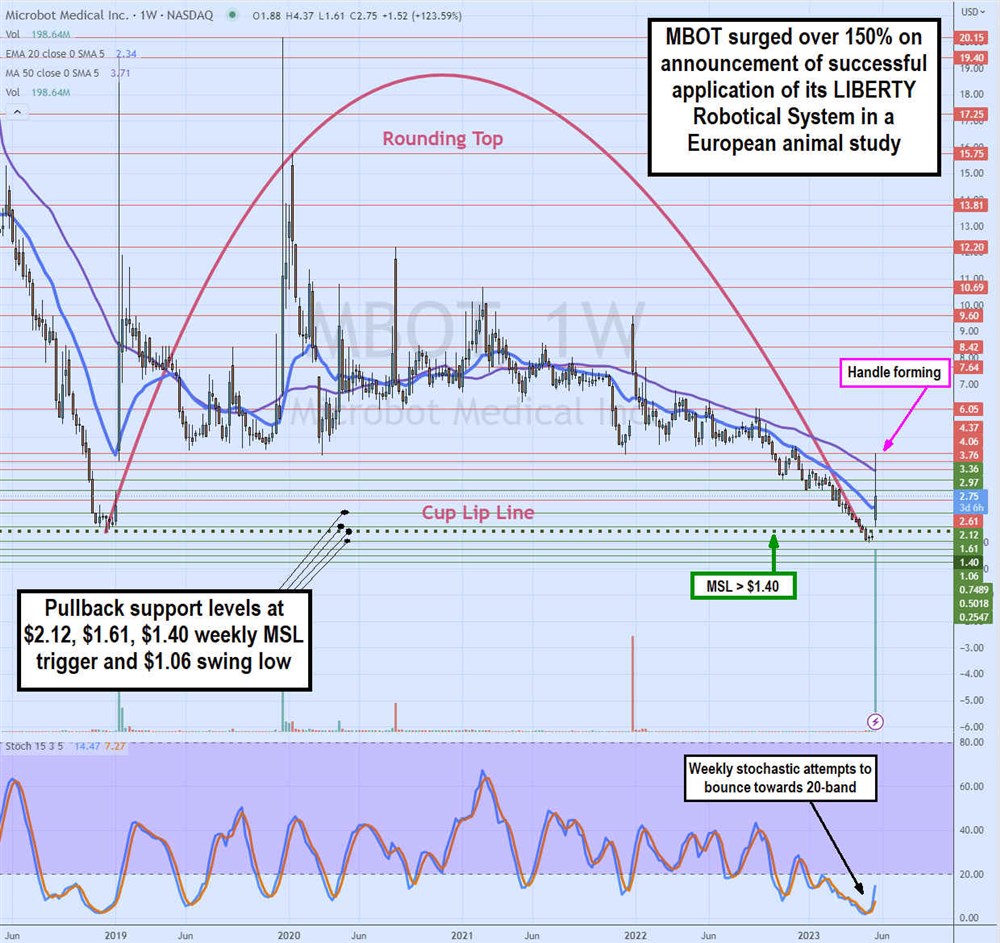 MBOT formed a rounding top a bounces rose to lower highs while drops made lower lows. The inverse cup lip line was retested when it broke in May 2023. Shares slipped under the $1.40 lip line which also became the market structure low (MSL) buy trigger.
MBOT exploded higher on May 22, 2023, on the announcement of its European animal study success for LIBERTY sending shares to a high of $4.37 before pulling back on news of the $1.4 million direct offering. The weekly stochastic is still trying to bounce through the 20-band. Pullback support levels are at $2.12, $1.61, $1.40 weekly MSL trigger and $1.05 swing low.